PSI Audio celebrates 40th anniversary
On 6th October, PSI Audio celebrated 40 years of innovative sound reproduction at the company's headquarters in Yverdon-les-Bains in Switzerland. With passion and know-how, the brand has made a name for itself by providing audio professionals with monitors of impeccable accuracy and astonishing precision. Supporting technologies like Adaptive Output Impedance and Compensated Phase Response, studio monitors like flagship three-way speakers A25-M offer an authentic sonic image. These qualities are essential for a reliable working environment in music production, broadcast and post production. Innovative solutions like the active bass trap AVAA C20 guide the way to the next 40 years of improving audio reproduction.
Summary
PSI Audio celebrates 40th anniversaryPress contact
Moritz Hillmayer
rtfm GmbHCompany contact
Relec SA
Rue de Petits-Champs 11a+b
1400 Yverdon-les-Bains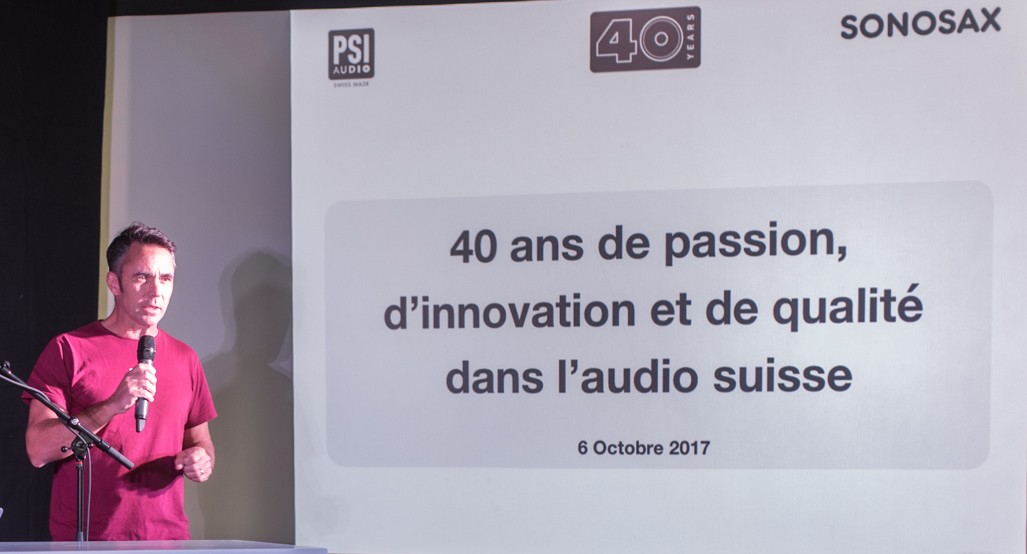 Swiss passion for sound
1977 saw the founding of Roux Electroacoustique by Alain Roux, who had been building speakers for years and chose to make this passion his profession. From hifi speakers to PA systems and studio speakers, Roux and his team passionately developed sound reproduction systems to the highest standards. By 1988, when the company's name changed to Relec SA, it had already expanded to building OEM products for well-respected international brands, winning some of the most coveted awards in the industry. From 1992 to 2003, after having extended the range of the manufacture to include active analogue electronics, Relec SA developed and built the speakers that would be associated with what is possibly the biggest name in Swiss professional audio: Studer. When Studer was acquired by a big international company and had to stop selling studio monitors, Relec SA started offering its sophisticated designs under the new brand name that would quickly become synonymous with pristine sound quality: PSI Audio.
Made in Switzerland
Switzerland has long been established as one of the most renowned places for creating high-quality technology. It comes as no surprise then that Relec SA emphasizes the quality of its products by manufacturing them at the headquarters in Yverdon-les-Bains. On 1.000 square metres, all parts of the production process can be covered: from the wood for the casings and PCB processing to cabling, magnetization, winding and assembly, all PSI Audio products are conceived, developed and built within the confines of the company's premises. An anechoic chamber of 150 cubic metres for testing and measuring is included, as are packaging and storage.
Perfect reproduction
The majority of the PSI Audio product portfolio consists of high-end studio monitors for audio professionals in recording, mixing, mastering and broadcast. Midfield monitor and speaker flagship A25-M perfectly encapsulates all the virtues that set PSI Audio apart from other manufacturers. With technologies like Adaptive Output Impedance (AOI) active membrane damping system and Compensated Phase Response (CPR), the A25-M flawlessly projects audio with perfect accuracy in phase, impulse and frequency. The result is audio playback with all the depth and authentic stereo imaging provided by the source material, and an incredibly precise reproduction of surround setups even when various models from the portfolio of PSI Audio are combined.
The listening environment should match the high standards set by the speakers. To overcome the toughest problems in room acoustics, PSI Audio has developed the AVAA C20 active bass trap. The Active Velocity Acoustic Absorber neutralizes room modes in the frequency range from 15 to 150 Hz, eliminating the most annoying results of boomy sounding rooms. While the system absorbs low frequencies up to 20 times more efficiently than traditional bass traps, it uses up a lot less space than classic acoustic modules tailored to absorbing the low spectrum.
Celebrating 40 years of PSI Audio
Relec SA celebrated the 40 years since its inception in 1977 on 6th October at the company's headquarters. Business partners, journalists and friends came together in Yverdon-les-Bains and were treated with a chance to visit the impressive manufacture. With all its workstations, from building tweeters to measuring every single speaker to packaging and despatching the parcels, the headquarters easily conveys the all-in-one approach. Special guests held presentations on various topics, all looking back on the last 40 years and reminiscing about their own work and that of PSI Audio. Relec SA founder Alain Roux introduced the audience to the beginnings of PSI Audio and the development of the company that it is today. Other presentations included Jacques Sax, who looked back on his own company SONOSAX's 40th anniversary, Christof Faller from Illusonic on the power of digital signal processing, Daniel Weiss of Weiss Engineering on the history of digital audio applications, John Owens on the 65 years of his company NAGRA and many more. The food for thought provided by the presentations would be discussed during the networking event afterwards over actual delicious food and supported by exquisite live music. The demo room also gave the visitors a possibility to experience the PSI Audio product portfolio, from nearfields like the A17-M to System 1 – Mastering 25-225 and even the AVAA C20 active basstraps. It is safe to say that no guest went home without being impressed by the sound, the history and the approach of PSI Audio.
About PSI Audio
Relec SA has been building high-quality sound reproduction systems for professional applications for 40 years and counting, as an OEM manufacturer for Studer and others. As a brand, PSI Audio has established itself in the world of studio monitoring. The company's philosophy: 100 percent analogue circuitry with no DSP, highest quality through production in the own manufacture – and perfectly neutral playback. PSI Audio speakers reproduce exactly what is in the recording without adding anything or leaving anything out. With the AVAA C20 active bass trap, PSI Audio also revolutionizes room acoustics.
www.psiaudio.com