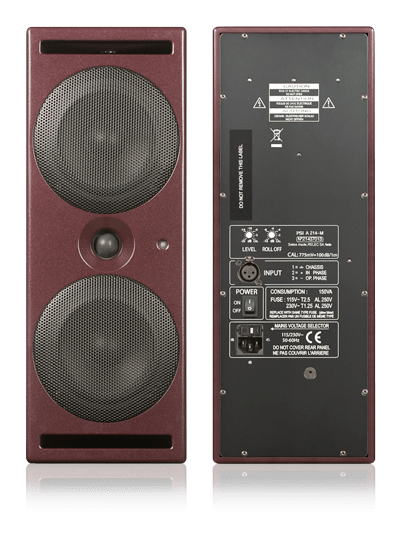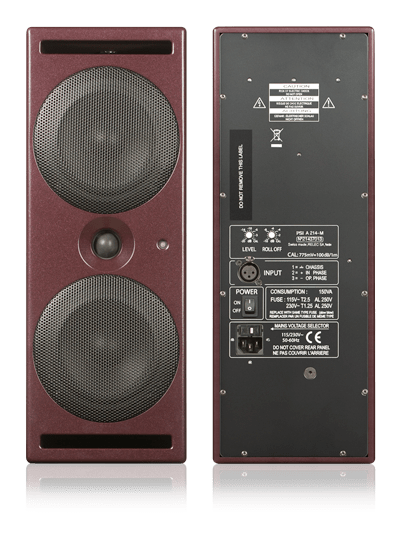 Main Features
Power: 80 + 40W
Frequency Range: 43Hz – 23kHz
SPL Max: 104dB
100% Analog – No DSP
Flat frequency response
Phase compensated for a better stereo image
individually calibrated
Class G/H Amplifiers
Typical listening distance: from 1.5 m
5 years warranty
Handmade in Switzerland
Extend the low frequencies and add power
Use one of PSI Audio's Subwoofer / LFE to add more energy and low end to your A214-M:
– Our compact Sub A125-M
or
– our full range Sub A225-M
Thanks to our Roll-Off technology, both Sub A125-M & Sub A225-M are designed to perfectly match the A214-M.


A214-M – The perfect speaker for surround setups
The A214-M is primarily designed as a centre speaker for surround systems. Its power is optimized to satisfy the requirements of post-production and film mixing suites. The small cabinet allows it to be used in surround systems where space is and issue such as below a screen.
Click on a picture to choose a product from our coherent range of monitors.
Technical Data & Documents
What our users say
The A214-M is very identical as the A21-M in terms of power but has the advantage to be installed in horizontal position to gain space under the screen.
H-P Gutjahr – KVV Studio