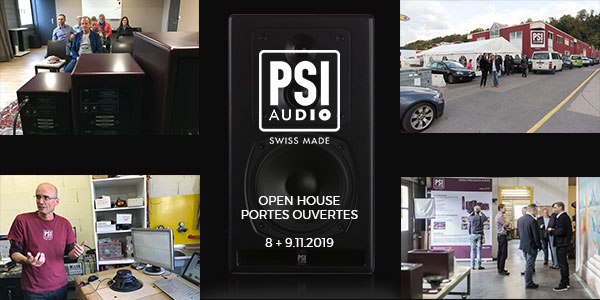 PSI Audio – Open House – Portes Ouvertes
8 + 9.11.2019
Journées Portes Ouvertes
Chers Amis, Clients, Fournisseurs,
Relec SA – PSI Audio vous ouvre ses portes afin de découvrir un monde de précision de l'audio.
Vous pourrez y découvrir ses laboratoires de recherche et développement, ses ateliers de fabrication, une des seules chambres anéchoïques de Suisse permettant la calibration des enceintes ainsi qu'un showroom ou vous pourrez écouter les modèles phares de la marques et l'effet bluffant de l'AVAA, seul bass trap actif au monde, entièrement développé et fabriqué à Yverdon-les-Bains.
– Vendredi 8 novembre de 14:00 à 19:00
– Samedi 9 novembre de 11:00 à 17:00
Adresse:
Relec SA – PSI Audio
Z.I. Petits Champs 11 a+b
1400 Yverdon-les-Bains
Comment nous trouver: cliquer ici
Inscription via facebook: cliquer ici
————————————————-
Open House
Dear Friends, Customers, Suppliers,
Relec SA – PSI Audio opens its doors to you in order to discover a world of precision audio.
You will be able to discover our research and development laboratories, our manufacturing workshops, one of the only anechoic chambers in Switzerland allowing the calibration of the speakers as well as our showroom where you can listen to the flagship models of the brand and the amazing effect of the AVAA, the only active bass trap in the world, entirely developed and manufactured in Yverdon-les-Bains.
– Friday, November 8 from 14:00 to 19:00
– Saturday, November 9 from 11:00 to 17:00
Address:
Relec SA – PSI Audio
Z.I. Petits Champs 11 a+b
1400 Yverdon-les-Bains
How to find us: click here
Subscribe on Facebook: click here