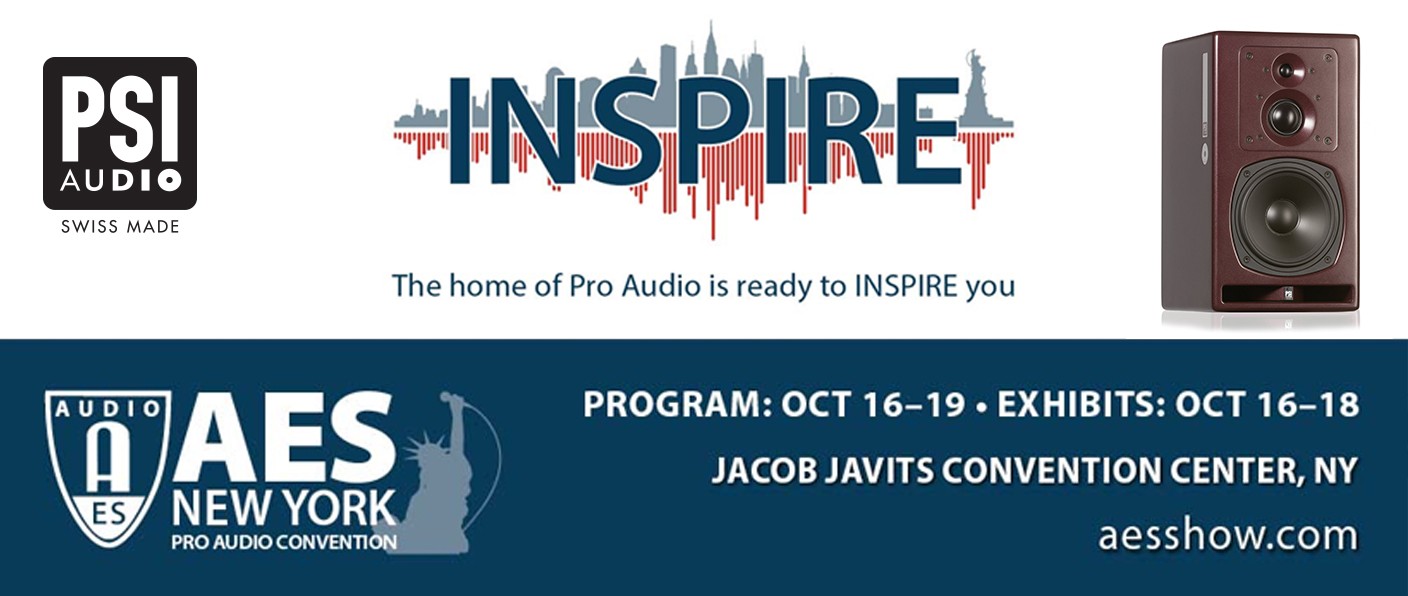 PSI Audio @ AES New York 2019
Discover the accuracy of Swiss Sound at our booth #345.
For those who have never listened to PSI Audio precision studio monitors, AES is a great opportunity to have a better idea of what we deliver and why PSI Audio has been established as a true reference.
The A23-M, our new compact 3-way active studio monitor is well expected at the AES. Introduced at the NAMM Show in L.A., the A23-M is a great success!
Compact in size and powerful, it can be easily placed on a mixing console or in any environment where precision in sound is required.
PSI Audio studio monitors are real tools!
Perfect Stereo Image – Full Analog – Linear Phase Compensation – Adaptive Output Impedance – Handmade in Switzerland – Individually Calibrated – Reliable.
– A14-M is the most compact studio monitor of our range, declined in 2 versions: broadcast & studio.
Be surprised from what a so small monitor can deliver.
– A17-M is the perfect compact studio monitor that you've ever dreamed of.
Compact, powerful with an impressive low end for its size.
– A21-M is the largest 2-way studio monitor of our range with more low end and SPL than the A17-M.
It is without any doubt the most powerful and accurate 2 way speaker you may find.
– A25-M is the pinnacle of PSI Audio system development, featuring ultimate precision from 32 Hz to 32 kHz.
Re-discover your favorite records through this amazing 3-way monitor.
– Sub A125-M is our new compact subwoofer featuring one 10 inch woofer.
Ultra tight and realistic low end thanks to our analog circuitry.
Come to our booth #345 hosted by our distributor, 11 Dimensions Media to check out all our products:
– A25-M, A17-M & A14-M boosted with our new compact subwoofer A125-M on our own booth:
– A215-M on Zynaptiq booth.
–  A21-M with A225-M on SoundRadix booth.
– A14-M on Teknosign booth.
Our presence:
– Roger Roschnik, CEO
e-mail
phone: +41 79 417 04 77
– Fabrice Del-Prete, sales manager
e-mail
phone: +41 78 613 88 28
– Jason Davies, 11 Dimensions Media, US distributor
e-mail