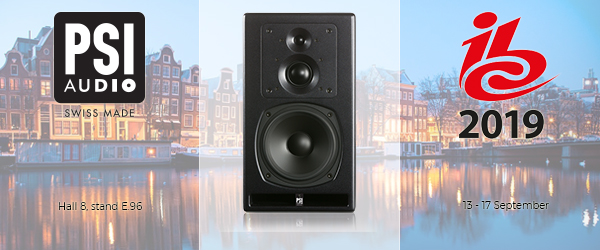 Visit PSI Audio @ IBC 2019
PSI Audio at IBC 2019 – Hall 8, Stand E96
The IBC Exhibition takes place in Amsterdam from 13 – 17 September 2018.
We will co-exhibit with synergy Swiss partners from Merging Technologies & Sonosax in the Hall 8, Stand E96 (8.E96).
Please come and see us to discover:
– PSI Audio precision loudspeakers
– PSI Audio active bass trap, the AVAA
PSI Audio loudspeakers dedicated to broadcast… but not only

Our new weapon
Designed to be positioned horizontally or vertically, our new compact 3-way monitor A23-Mis the answer to all demanding sound engineers looking for the ultimate precision in the stereo image, frequency range and power.
The A23-Mhas already won several shootouts, thanks to its new full analog technology and its compact size.
Precision monitors made in Switzerland
For over 40 years we have been designing and manufacturing the most accurate loudspeakers possible and for 25 years now, only active and purely analogue technology. Perfectly linear response, phase accurate, dynamic transients, no coloration, are among the aspects that make PSI Audio loudspeakers a trustworthy tool that allows to work faster and with greater confidence and pleasure.
Homogeneous range
Thanks to our analog advanced technology, all of our speakers can be mixed and matched as the balance and tonality are identical from one model to the other. This is a great advantage to ensure same standards using different models of loudspeakers in rooms of different size and purpose.
Phase compensated monitors
The CPR (Compensated Phase Response) and AOI (Adapted Output Impedance) systems ensure extremely accurate and superior transient behaviours as well as perfect sound image. It also allows to mix and match any PSI Audio monitor in a multichannel setup.
Full stereo or surround kits
Our range includes 7 different loudspeakers and 2 subwoofers that, by design, fit all of our loudspeakers.
This allows you to choose the perfect speaker size for every use, from the smallest desktop monitors up to our main A25-M+ SUB A225-M.
Powerful unique routing system
Our R&B – Router & Bass Managementsystem allows switching between 3 different monitoring configurations, controlled by a foot pedal so you can keep on doing what you are doing with your hands and ears.
For example, you may switch between stereo (full bandwidth) to surround and back to stereo + sub. This is extremely useful to check your surround mixes in cinemas (up to 7.1, Dolby or other); you can use 3 subwoofers and route the L+R as extension of L+R speakers and connect the 3rd one as LFE.
Some of our international broadcast references:
– NHK, Japan
– ERTU, Egypt
– ORF, Austria
– RTBF, Belgium
– BBC, UK
– RTL, France
– NRJ, France
– TPC, Switzerland
– RTS, Switzerland
– RSI, Switzerland
– Radio France, France
– sonovts, Germany
– Czech Radio, Czech Republic
– SBS Broadcasting, NL
– NRJ, France
All our models are available in burgundy red, studio black, pure withe and any other color on demand.
—————————————————————————
PSI Audio AVAA – Active Velocity Acoustic Absorber: control low frequencies in a room
The solution for your room modes
The AVAA is designed to absorb the standing modes up to 150 Hz in a room. It will do so just like passive absorbers but in a much more efficient way and using up much less space. Each operating AVAA will havethe same effect as a hole in the wall 5 to 20 times larger than the dimensions of the AVAA.
The AVAA emits no sound, requires no calibration or setting, is small and movable and works in all rooms (recording, control, listening).
On our booth at IBC:
On our booth we will display a selection of our product range such as our broadcast targeted weapons: the new A23-M, A14-M Broadcast and our compact subwoofer SUB A125-M.
Two members of our staff will welcome you on our booth @ IBC.
You are welcome for all technical, commercial or general enquiries!
We look forward to seeing you there !
Roger Roschnik & Fabrice Del-Prete
More information about PSI Audio at the show on our Facebook page : www.facebook.com/psiaudioor on Twitter www.twitter.com/psiaudio
More information about the IBC here : www.ibc.org
How to find us: please click here
——————————-
We are a company dedicated to precision studio monitors, not spammers. You belong to our mailing list. We will send dedicated mailings per domain. For a full transparence, if you want to see the datas we store about you and in order to receive only relevant news, help us to communicate more efficiently : update your subscription preferences.