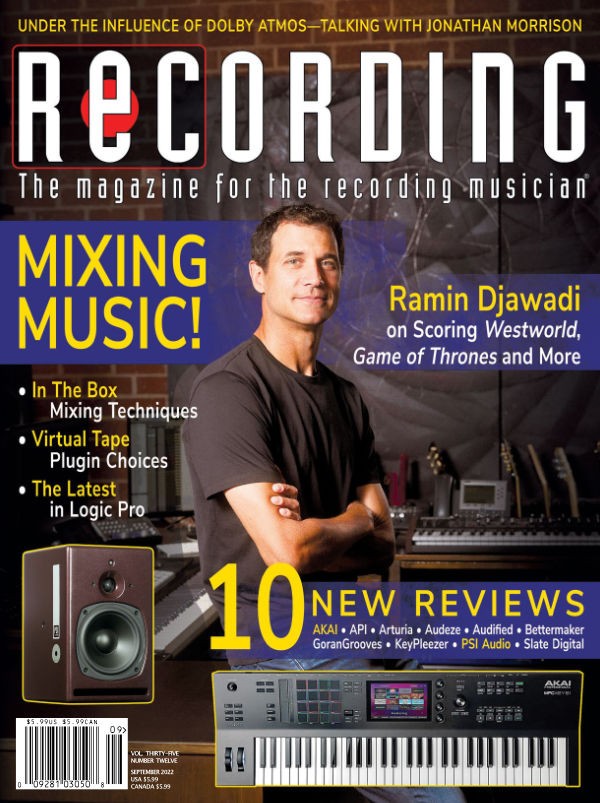 A17-M reviewed in RECORDING magazine
How does one improve Swiss precision?
September 2022
By Paul Vnuk Jr.
I have been listening to PSI Audio monitors since I reviewed the A14-M broadcast/studio model in our March 2016 issue. In our July 2017 issue, we reviewed the mid-size nearfield A17-M studio monitors. Since then, I have also had the pleasure of using the impressive 3-way A23-M reviewed by mastering engineer Justin Perkins and myself in our March 2020 issue. Today, five years later, we reassess the A17-M thanks to the introduction of a new, in-house handmade tweeter.
Precision Improved
Since 1977, PSI Audio has been crafting hi-fidelity studio and broadcast monitors in Yverdon-les-Bains, Switzerland. The company introduced its first active/powered models in 1988, and to this day, they still feature a 100% ana- log circuit path with zero onboard DSP.
Most models in the PSI Audio family employ the same 1″ soft-dome tweeter design. Previously PSI Audio made use of a high-quality third-party offering. Still, two years ago, the company decided it could improve the quality further if it had control over the process and brought the design and production in-house. The new PSI Audio handmade neodymium twee- ter made its debut in a revised edition of the A14-M, and is now making its way across the lineup. It can be found along with some further design improvements in the flagship A25-M 3-way model.
Nearfield
According to PSI Audio, everything else about the A17-M remains wonderfully unchanged beyond the new tweeter upgrade.
The PSI Audio A17-M is a 5″ nearfield studio monitor with a 5.1″ (90 mm membrane) bass driver housed in a 12.6″ x 7.9″ x 9.1″ MDF cabinet. In an era when many speaker cabinet manufacturers are exploring unique angles, baffles and materials, the PSI AudioA17-M is minimally old-school. At the bottom of the cabinet is a .5″ front-firing bass port and the tweeter features a circular concave Acoustic Load Guide. At the top, you will find a green power LED that flashes red when the internal limiter is hit (I had to don earplugs and crank the sound to 102 dB to experience this red-flashing friend).
Around the back, you will find a ba- lanced XLR input, a power switch, an IEC power socket and two small thumb screws to adjust the 100 Hz bass roll-off and input level.
Like all PSI Audio offerings, the A17-M is available in a choice of Metal Black, Pure White or the signature PSI dark Studio Red. One last physical attribute to note is the speaker's compact size. The A17-M is a tad more compact and streamlined than many similar 5″ offerings on the market.
Swiss Innovation
Despite the no DSP rule, PSI Audio monitors still use some impressive acoustic/analog technology.
Class G/H Amplification: The A17-M is bi-amplified with custom Class A/B power amps. Perfectly adapted to the transducer they drive. Note that for large models, PSI Audio have developed Class G/H amps that scale the power consumption up and down via multiple voltage rails. This power-scaling means no wasted power and less heat buildup.
Adaptive Output Impedance (AOI): Another self-adjusting design, AOI automatically adjusts the impedance from the amplifier to the speaker, ensuring that the membrane and magnet react as quickly and accurately as possible in perfect synchronization. This allows for improved sonic accuracy and transparency.
Compensated Phase Response (CPR): This purely analog all-pass filter network main- tains the monitor's flat phase response for improved clarity and imaging.
Acoustic Load Guide (ALG): More than a typical waveguide, this molded, 1″ bowl-like curvature around the tweeter controls high-frequency directivity, overall SPL levels and bandwidth extension.
Phantom Standby Control (PSC): PSC sends a phantom power-like signal over the audio cable, allowing for remote standby control of the monitor through an optional PSI Audio R&B Signal Router.
"I continue to be impressed by the design and sound of the PSI Audio A17-M, new and old.

The PSI Audio A17-M is a serious high-end mix tool that delivers beautifully detailed sound in a very small footprint. What's not to like?" – Paul Vnuk Jr. – RECORDING
Fresh Impressions
When I reviewed the original A17-M monitors, I found them ultra-detailed (but not a sterile or clinical-sounding monitor) with a 3-dimensional, open and neutral top end rather than a "studio-monitor" brightness. I found the midrange smooth and flat and the lows unhyped with no added bass compensation.
Many of these opinions remain. While I cannot make a side-by-side comparison of the old and new tweeter, I found the top end of the new A17-M monitors to be incredibly open, dimensional and ultra-detailed, yet lovely and natural. The midrange was again smooth and neutral. The low-end presentation could be what really impresses me most about these monitors. It is fuller than I remember.
New Bass Impressions
When I originally reviewed the previous incarnation, it was in my old un- treated listening room, followed by trying them in my larger professional mix space. My new home mix suite is now professionally treated and tuned, like my main room, with GIK Acoustics panels.
In my home suite, I was impressed with the clarity and depth of the A17-M, not only in the highs but the lows. While the low-end remains unhyped and not pushed, I was impressed by how low these small boxes reach. In the sweet spot of a 34″ listening triangle, from deep upright bass in my favorite jazz recordings, to modern pop-thumpers at average listening levels of 72 to 80 dB, I rarely felt the need to engage my sub. The lows are not sub-thumping, but they are incredibly rich and well-balanced.
Moving to my main mix room, when used as true near fields again, they had no problem filling the spectrum at moderate levels, but here I would love to experience them paired with the company's compact Sub A125-M. I will also make the leap that these could be a fantastic component of a more extensive PSI Audio Atmos setup.
Final Conclusions
I continue to be impressed by the design and sound of the PSI Audio A17-M, new and old. Price-wise, they are definitely in the high-end boutique range, especially in the 5″ compact monitor are- na. Still, the PSI Audio A17-M is a serious high-end mix tool that delivers beautifully detailed sound in a very small footprint. What's not to like?